What do you call a Rhode Island institution that came together over twenty years ago through a love of blues and rock & roll?
Black & White!
Since 1990, the band has adorned the stages of venues throughout New England, bringing forth their unique blend of high energy swing-blues and roots rock & roll.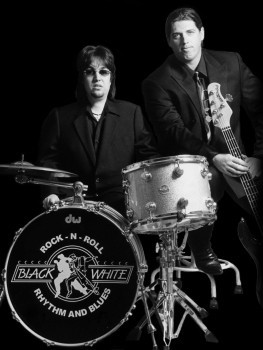 Founding members
DON DIMUCCIO (drums) KEVIN MARTIN (bass)
Featuring a rotating roster of frontmen
Past, present, and future...
Dave Howard, Gary Gramolini, Rob Nelson
Eric Fontana, Professor Harp, Chris "Stovall" Brown
Chris Leigh, Jack Raeke, Eric Reinhardt
Tom Ferraro, Sam Gentile, Tom Williams
and many many others....